Wilderness Health Staff
---
Cassandra Beardsley was hired in March 2013 to work with several independent Northeastern Minnesota health systems to develop a network of regional providers to ensure that relevant, quality, cost-efficient services remained available in a mostly-rural region. Her responsibilities include development of strategic business plans, budget and communication to various stakeholders including the Board of Directors, providers, staff, regulatory agencies, community leaders and general public. She is passionate about making sure that quality health care is available to everyone.
Prior to becoming executive director of Wilderness Health, she worked in various senior operational management roles with Blue Cross Blue Shield of Minnesota and FirstPlan of Minnesota.  Beardsley brings extensive expertise in Medicare, Medicaid and commercial insurance products as well as other employee benefit products.
Beardsley holds her bachelor's degree in history from the University of Minnesota Duluth. An active member of the community, she serves on the board of directors for the Two Harbors Housing and Redevelopment Authority (HRA). She is also a coach and past president of the Two Harbors Soccer Club and a former board member of the Head of the Lakes United Way. In her free time, she and her family enjoy all of the seasons that Minnesota and Lake Superior offer.
I work at Wilderness Health because...
I am passionate about our motto "Partners advancing rural health" and feel like I'm part of something that is collectively bigger than what any one system can achieve on their own.
---
Gretchen Karstens, MD, joined Wilderness Health in January 2020 as Medical Director.  In this role, she provides clinical leadership and is a champion for implementation of quality improvement initiatives; working closely with Wilderness Health staff, members and stakeholders throughout the community and region.
Dr Karstens is a graduate of the Medical College of Wisconsin, Milwaukee, WI and is board certified in Pediatrics by the American Board of Pediatrics. She is a practicing Pediatrician at St Luke's Pediatric Associates who is passionate about addressing and improving the social determinants of health that have such a large impact on patient health. She has also been involved in patient-and-family centered care with the Health Care Home since 2007.
She serves on the MN chapter of AAP board and executive committee and in her free time, Dr Karstens likes to bake, run, and spend time outdoors with her family.
I work at Wilderness Health because...
I have always been motivated by connections. There are so many great opportunities to help others by creating networks of care. This network is as immediate as your clinic and family care team being well integrated into the community. It is as encompassing as your regional health care providers having easy access to your care team with establishing patterns of communication regarding continuity of care. The mission of Wilderness Health to be an integrated network of health care provision fits with my passions.
---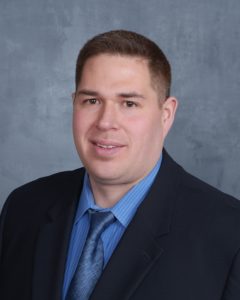 Elmer Howarth is a Quality Analyst who works with Wilderness Health and is responsible for managing quality improvement activities. Prior to his Quality Analyst role, he worked as a Community Health Director administrating operations and quality improvement activities for Rural Health Clinics and community prevention programs.
Howarth is an Inupiaq Eskimo who grew up in Northern Alaska north of the Arctic Circle where the midnight sun takes place in the summer months. He enjoys spending time with family camping, harvesting of traditional foods, and sharing stories around the campfire. His knowledge of rural health care and administration background offers Wilderness Health expertise in the understanding of working with all levels of professions. He offers services from analyzing data, identifying opportunities to improve patient outcomes to offering technical support for quality improvement initiatives.
Howarth has a bachelor's degree in Applied Psychology and Biblical Studies where he graduated with academic achievement as Mega Cum Laude from Oak Hills Christian College. He also has a master of science in Psychology with an Emphasis in General Psychology from Grand Canyon University.
I work at Wilderness Health because...
The driving foundation that drove me in the direction to do the work I am doing today is a promise I made to myself when I was a young adolescent was to continue the positive change my grandfather showed me by his interactions and investment into the community and people's lives.
---
For 13 years Katie Peck has had a diverse background in healthcare. Starting in 2006, Katie received her Emergency Medical Technician (EMT) certification through the Wilderness Medical Institute with the National Outdoor Leadership School. As an EMT and volunteer ski patroller through the National Ski Patrol, Katie started her healthcare career in the mountains of Breckenridge, Colorado. After working for four years within the local Emergency Department, Katie was motivated to return to nursing school to pursue a higher level education in healthcare and to learn another country's healthcare system. Katie in 2014 received a Bachelor's in Science of Nursing through the University of British Columbia- Vancouver. She then returned to the United State to practice as a Registered Nurse (RN) starting in Colorado and then Minnesota in Orthopedics, Neurology, Family Practice, Labor and Delivery, Home Care and now with Wilderness Health. Katie has also received her Public Health RN Certification through the Minnesota Board of Nursing and currently has her RN license in Minnesota, Wisconsin and British Columbia.
Katie has long had a passion for the outdoors and adventure. Prior to her healthcare career, Katie also received a Bachelor's of Applied Science from the University of Minnesota- Duluth in Outdoor Education and Recreation. Katie has been an environmental educator and outdoor guide in Minnesota, California, Alaska, Colorado and Australia. Katie has maintained her volunteer status with the National Ski Patrol. She has also has served an RN for the United States Rafting Team in Brazil and a volunteer for the Boulder Food Rescue. From skiing to paddling, Katie with her family loves to purse all the outdoor adventures northern Minnesota has to offer.
I work at Wilderness Health because...
The power of the ripple effect! By leveraging our members at Wilderness to drive strategic change in achieving optimal care, I am inspired knowing we are improving lives through the communities we serve.
---

As the Project Manager, Michelle serves as a resource for organizational leaders across the WH network to identify, implement and meet business development and process improvement goals.  Assists in project identification and selection, assuring linkage between projects and business objectives. Prior professional experience includes a 19-year history of various management and community engagement leadership positions in the nonprofit and higher education sectors. Past work history includes serving as the Vice President of Impact and Development at the Head of the Lakes United Way, working as the Director of the Office of Civic Engagement at the University of Minnesota Duluth, Student Life Director at UW-Stout, 4-H Program Coordinator with SDSU Cooperative Extension, and service as an AmeriCorps VISTA member.
Board service and community involvement includes: Junior League of Duluth for 10 years in various roles,  North West Community Services Agency,  MN Council of Nonprofits NE MN Advisory Council, past board member of the YMCA Community Services Branch, United Way of Wisconsin State Board, Greater Duluth Service Learning Board, and a variety of Higher Education Committees from Faculty Senate, Diversity & Inclusion, Training & Development, Public Engagement to Conduct & Risk Management.
Hargrave has acquired her MS in Human Development with a specialization in Family Financial Planning from South Dakota State University and a BA in Business Management/Entrepreneurship and minor in Spanish from Buena Vista University.  Other Involvement includes being a Chamber Ambassador and Leadership Duluth Graduate with the Greater Duluth Chamber, NAACP member, Victory Chorus participant and volunteering with area nonprofits. In her spare time-family, friends, traveling, reading, hiking animals, and crocheting are some of her joys and pastimes.
I work at Wilderness Health because...
Community engagement for the common good has been the cornerstone of my personal and professional journey from growing up on a rural farm in MN, serving as an AmeriCorps VISTA in service to America, to driving community and systemic change throughout my professional career.  Being part of an organization, such as Wilderness Health not only supports this philosophy, it enhances people's daily lives.  Wilderness is a mission driven, results oriented organization improving care for the betterment of each other and our neighbors; it is the bedrock of constructing a vital and healthy community.
---

Zomi Bloom serves as Telehealth Program Manager and is leading up efforts to improve access to care, starting with behavioral healthcare, through the use of telehealth in the rural areas of the Wilderness health network.  Prior to her role with Wilderness Health, she worked in clinic management in several specialties including oncology, OB/GYN, family practice, occupational health, and urgent care-both in the Carolinas and in NE Minnesota.  She also spent seven years with St. Luke's Hospital of Duluth in financial analysis and accounting management.
Bloom has lived in several states on the east coast and now calls Duluth, MN home.  She enjoys hiking, poetry, laughing at silly animal videos with her kids, and good coffee.
Bloom holds a bachelor's degree in Health Care Administration from Mary Baldwin University and a master's degree in Business Administration, Concentration in Healthcare Management from the University of Scranton.  She has also earned certification as a Certified Medical Practice Executive through the Medical Group Management Association.
I work at Wilderness Health because...
I am passionate about serving communities based on their specific needs. Working with Wilderness Health gives me opportunity to work to improve healthcare based on community-driven input and through listening to the staff and providers who care deeply for their patients.
---

Colleen serves as the Child and Teen Checkup Coordinator for Wilderness Health. She has spent time in Outdoor Education, teaching in the salt marshes and mudflats of mid-coast Maine, roaming the prairies and forests of Wisconsin, and backpacking with students along the Washington coast. Colleen also has a background in urban EMS, working as an Emergency Medical Technician (EMT) in Hudson, WI and as an Emergency Room Technician in Minneapolis, MN. Colleen is passionate about connecting folks to the resources within their community, whether that be the natural world or healthcare that best
meets their needs.
Colleen enjoys spending time with family, exploring beautiful outdoor spaces, and good coffee.
She holds a Bachelor's Degree from Luther College in Decorah, IA where through the liberal arts education learned to use her studies to interpret the world through a
multidisciplinary approach. One of her greatest joys is discovering the interconnectedness of the world.
I work at Wilderness Health because…
I am passionate about breaking down barriers to accessing healthcare, and believe that the Wilderness Health network strives to improve the health of every patient.
---

Alexis Sininger serves as the Administrative Secretary with Wilderness Health, supporting the Executive Director and program staff, coordinating meetings and events, and assisting the Telehealth Program Manager in program development and grant reporting. She earned her bachelor's degree from the University of Minnesota Duluth with a major in Political Science and minor in professional writing. She is an expert at using writing and communication tools to reach the public and produce professional reports for governmental and private entities. Alexis participated and held leadership roles in several clubs during her time at UMD including Mock Trial. Her previous work experience includes an internship with the Kluver Law and Mediation Center. Alexis is passionate about transforming healthcare at both the systemic and individual patient level, and uses her expertise in political systems and legal writing to support the WH team.
I work at Wilderness Health because...
Being freshly out of college Wilderness Health has offered a plethora of opportunity in multiple facets of work. Beginning in middle school I began working volunteer groups to better the community I was in, working with Wilderness has allowed me to continue this at a larger scope.  This work has given me insight in the community and allowed me to start making a difference. I chose to come to Wilderness for this reason.
---
Andrew Pratt is an AmeriCorps Volunteer in Service of America (VISTA) member working as an Ecolibrium 3 VISTA serving at Wilderness Health. He works with the team to support population health and health equity initiatives across Wilderness Health. Prior to his Population Health Coordinator role, he worked in rural Northwest Ohio as a State Tested Nurse Assistant or STNA.
Pratt was raised on a sheep farm in Northwest Ohio and speaks Spanish and English. He has a bachelor's degree in international relations and a master's degree in Bilingual Education Research and Teaching English to speakers of Other Languages (TESOL). Over the years, he has worked in various capacities of higher education as Language Tutor, English Language Learner Instructor and Graduate Teaching Assistant. In his spare time, he enjoys travelling, swimming, hiking and cooking.
I work at Wilderness Health because...
I am passionate about advancing humanity in equitable ways that focus on collaborative dialogue, understanding, respect and individual empowerment of every individual in our service area of the Northland.